Secretary DeVos Has Secret Russia Meeting With Potential Grizzly
Key Takeaway: April 1st comes again! 
Find Documents:
Press Release: http://nepc.info/node/8561
Contact:
Kevin Welner: (303) 492-8370, welner@colorado.edu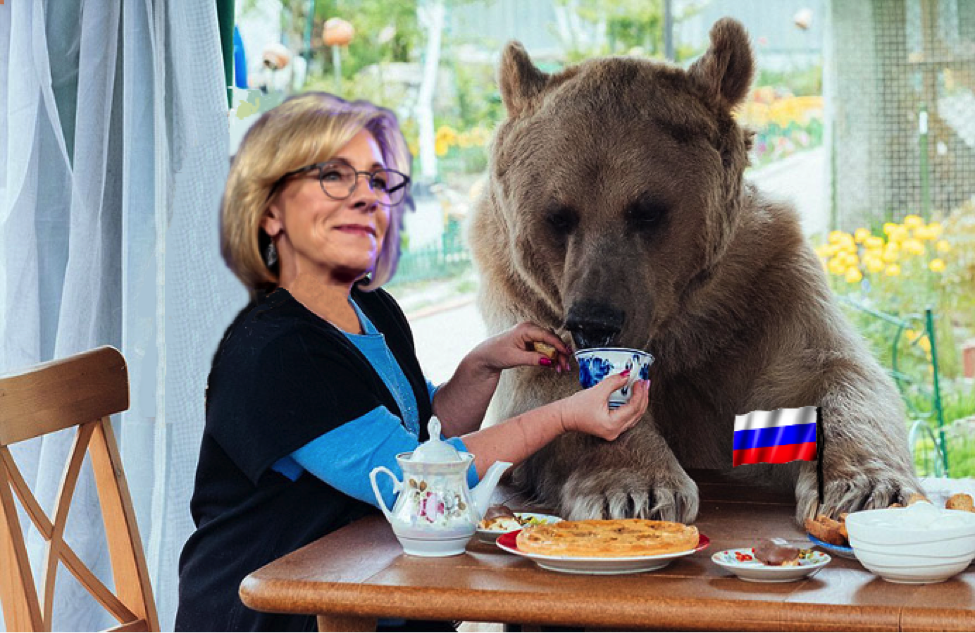 BOULDER, CO (April 1, 2017) - As part of Education Secretary Betsy DeVos's campaign to promote educational vouchers, she held a secret meeting last week with Boo Boo Medvedev, a Russian bear who is said to have close ties to bear leadership throughout the northern hemisphere.
Tensions between the two camps had flared following reports that DeVos had urged American teachers to open fire on members of the bear community. As a result, the powerful bear lobby had threatened to maul politicians who pretended not to know about recent studies of vouchers in Louisiana, Ohio and Indiana, all showing negative test score effects—in some cases, surprisingly large.
An Education Department spokesman announced on Friday that the talks were very successful. "The Secretary explained to Mr. Medvedev that her statements had been falsely reported by the Fake News Liberal Establishment Media™. By the end of the meeting, the Secretary had the bear eating out of her hand."
Medvedev agreed that the parties had reached détente. He also insisted, in halting English, that bears present no real danger. "I never pay visit to school but maybe indiscretions in youth with garbage can vandalism and once little playground stalking. This all in past."
The agreement reached by DeVos and Medvedev specifies that there shall be no gunfire so long as no bears join a teachers' union.
The National Education Policy Center (NEPC), housed at the University of Colorado Boulder School of Education, produces and disseminates high-quality, peer-reviewed research to inform education policy discussions. Visit us at: http://nepc.colorado.edu