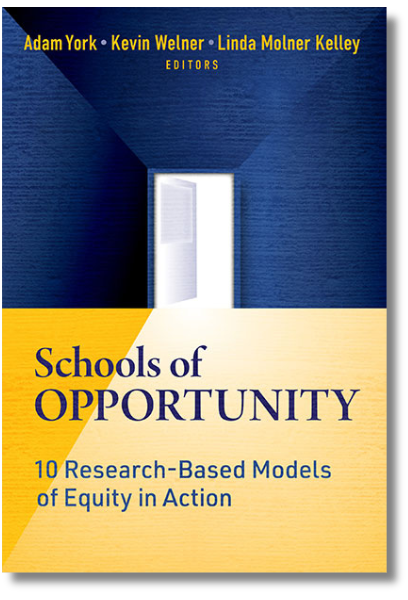 Schools of Opportunity
10 Research-Based Models of Equity in Action
This new book tells the stories of exemplary public high schools that are using research-based practices for closing opportunity gaps in student learning. The extraordinary work done by these schools can, the book explains, become ordinary – but only if the nation changes the way that excellent schools are recognized and built, and only if policy incentives and resources are thoughtfully directed to support the beneficial approaches used in these Schools of Opportunity.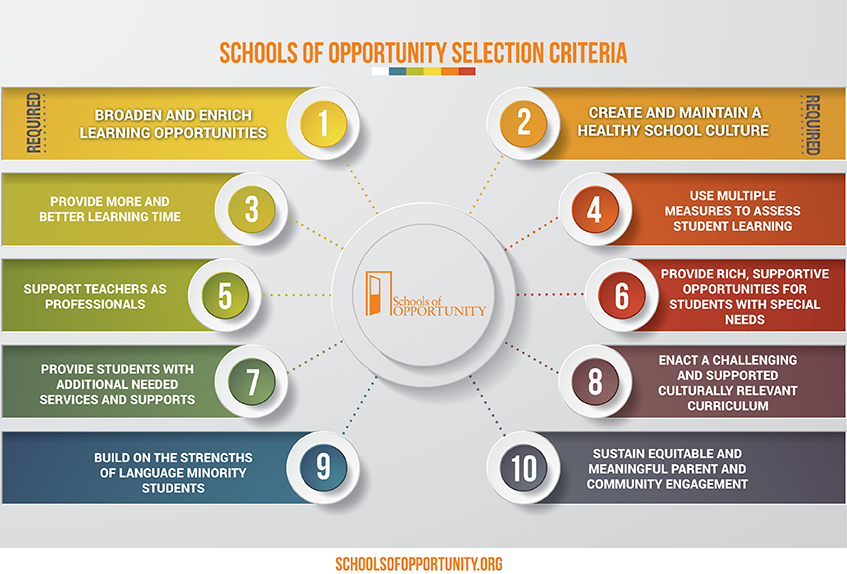 Available at the following retailers
(Click a logo)

Washington Post's Answer Sheet
Book excerpt focused on Denver's Dr. Martin Luther King Jr. Early College high school.
View the Excerpt

Diane Ravitch Interview
Interview focused on Nebraska's Lincoln High School.
View the Interview

School Improvement Tool
How one School of Opportunity used the criteria and scoring rubric to reflect and improve.
Download the PDF

Beating the Odds
Learning from five Schools of Opportunity profiled in the book.
Read the Article

Podcast about Supporting Teachers as Professionals
Focused on Maine's Casco Bay High School.
Listen to the Podcast

Learning Policy Institute
Close Opportunity Gaps Without Gimmicks
Read the Article
Funders that have Supported the Schools of Opportunity Project
What people are saying
"The Schools of Opportunity Program began with the ambition of finding a way to identify high schools that were places where all students could thrive. By recognizing good practices, the program measured and rewarded what schools do rather than the test scores they produce. This excellent book provides examples of high schools where students thrive, along with a roadmap for school leaders who seek to engage in research-based practices of equitable improvement."
"Here's the proof that real education reform is do-able. These chapters are all co-authored by school leaders who describe how they've used research-based practices to close opportunity gaps. It really can happen! There are no excuses for delaying changes in how our nation's schools work!"
"In contrast to the widespread campaigns of disinformation, profiteering, and so-called 'reforms' that exacerbate inequities in education today, Schools of Opportunity offers a visionary, vigorously researched, and imminently practical framework for assessing and transforming schools into foundations of democracy and justice. York, Welner, Molner Kelley, and colleagues offer not merely portraits of schools that exemplify the possibilities, but also roadmaps for getting there in our public school systems across the country. There is much reason for hope, and this book offers us an indispensable guide."